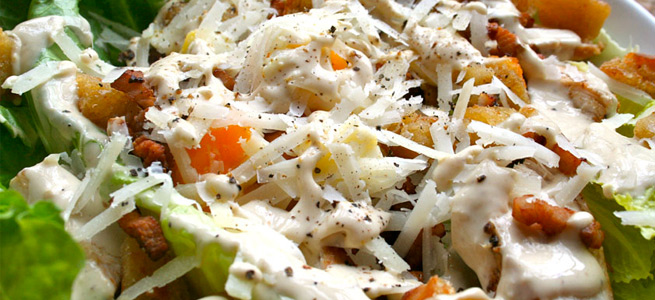 Ingredients – Serves 2 people
• 1 chicken breast, 1 egg, breadcrumbs, mix of lettuces, 80g of pasta spirals or any other type of pasta, 12 cherry tomatoes, croutons, Parmesan cheese and Caesar sauce
• How to make a Caesar pasta salad
Start by, logically, putting the water to boil. Meanwhile, cut the chicken breast into thick slices, dip them in beaten egg and cover them in breadcrumbs. If you like your chicken very crunchy, repeat dipping the pieces into the beaten egg and the breadcrumbs.
When the water starts to boil, add an abundant amount of salt and the pasta. Let it boil for the time indicated on the packet (in this case 11 minutes), strain and let it cool. Meanwhile, fry the chicken breast in plenty of oil, until it is a golden brown colour. Then take the pan off the stove and place the chicken on a plate covered with kitchen paper so the excess oil can be drained.
Finally, prepare the salad. Inside a good sized bowl, put the mix of lettuces, the cherry tomatoes that should be sliced into pieces, the pasta, the croutons and the chicken breast pieces. Add the Caesar sauce and add the final touch with a little bit of Parmesan cheese sprinkled on top.
Cooking time | 30 minutes Difficulty | Easy